AIS prides itself on developing and nurturing a sense of belonging and camaraderie amongst its students, staff and families. However, this sense of community does not simply disappear once students graduate. The AIS Alumni aims to maintain and in some cases, reignite, the wonderful friendships and working relationships forged at our school. We would like our past students to know that AIS is always a place they can return to as they pursue their future endeavours in the adult world, reaching as always for the stars.
Any past graduates, their families, interested groups or key stakeholders are eligible to apply to be a member of our exceptional AIS Alumni.
There are various ways you can stay in touch.
Alumni Facebook
If you have a Facebook account, follow us via the AIS Alumni page. Catch up with old friends and teachers, stay updated on upcoming reunions or even comment on old school photographs. Simply search for 'Australian International School Sharjah Alumni' or use this link below
For all AIS Alumni inquiries, please contact the Alumni coordinator:
Contact:+971 6 533 7722
Email: [email protected]
Alumni Success Stories
AIS is a part of each and every student's journey to success. This journey is an ongoing one and the knowledge and values that our students carry with them as they step out into the larger community at large helps them at every stage in their lives. We are very proud of our Alumni's outstanding achievements and showcase them as a source of inspiration for all on various platforms and events.
If you are an AIS Alumni do tell us about your adventures at [email protected].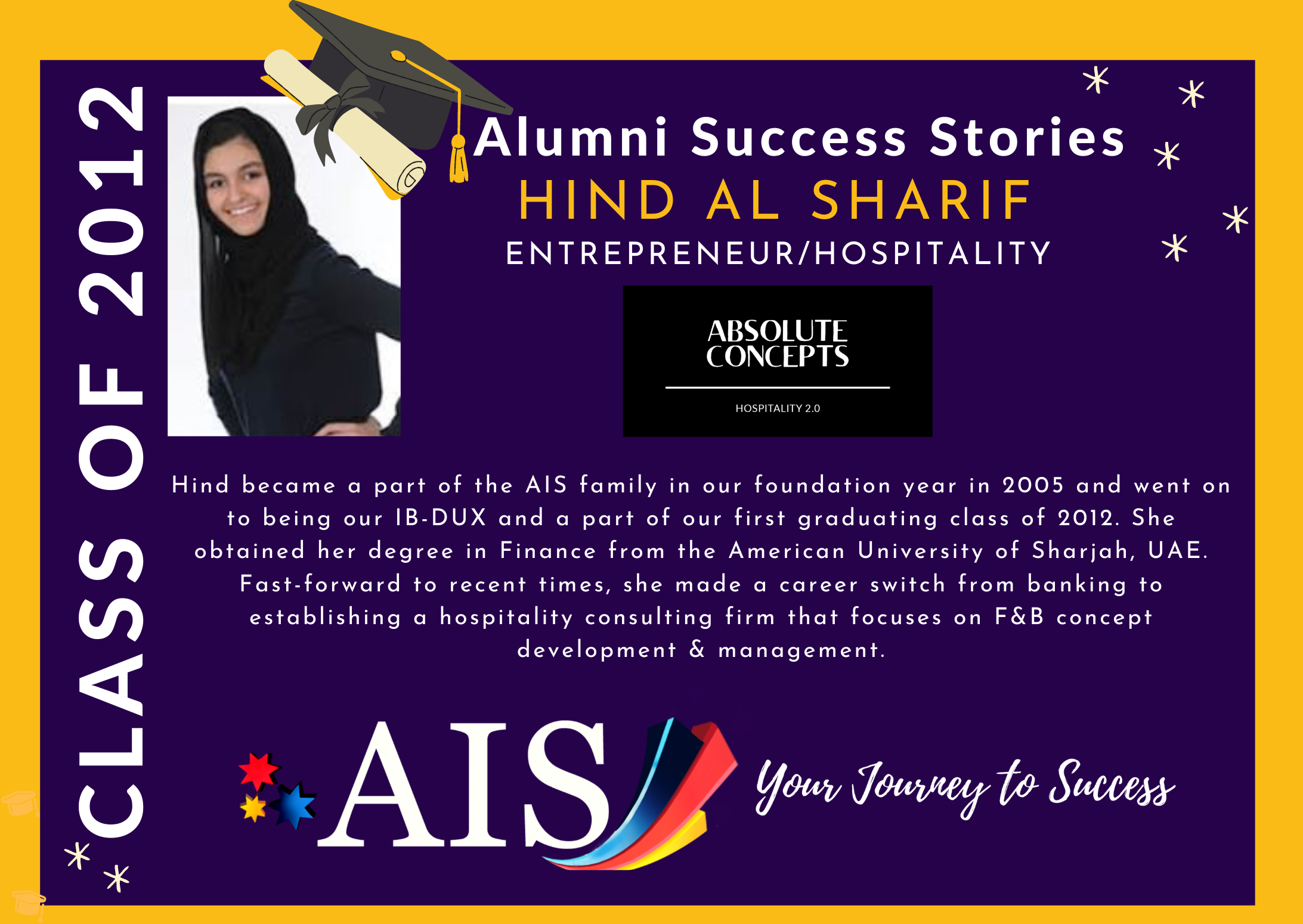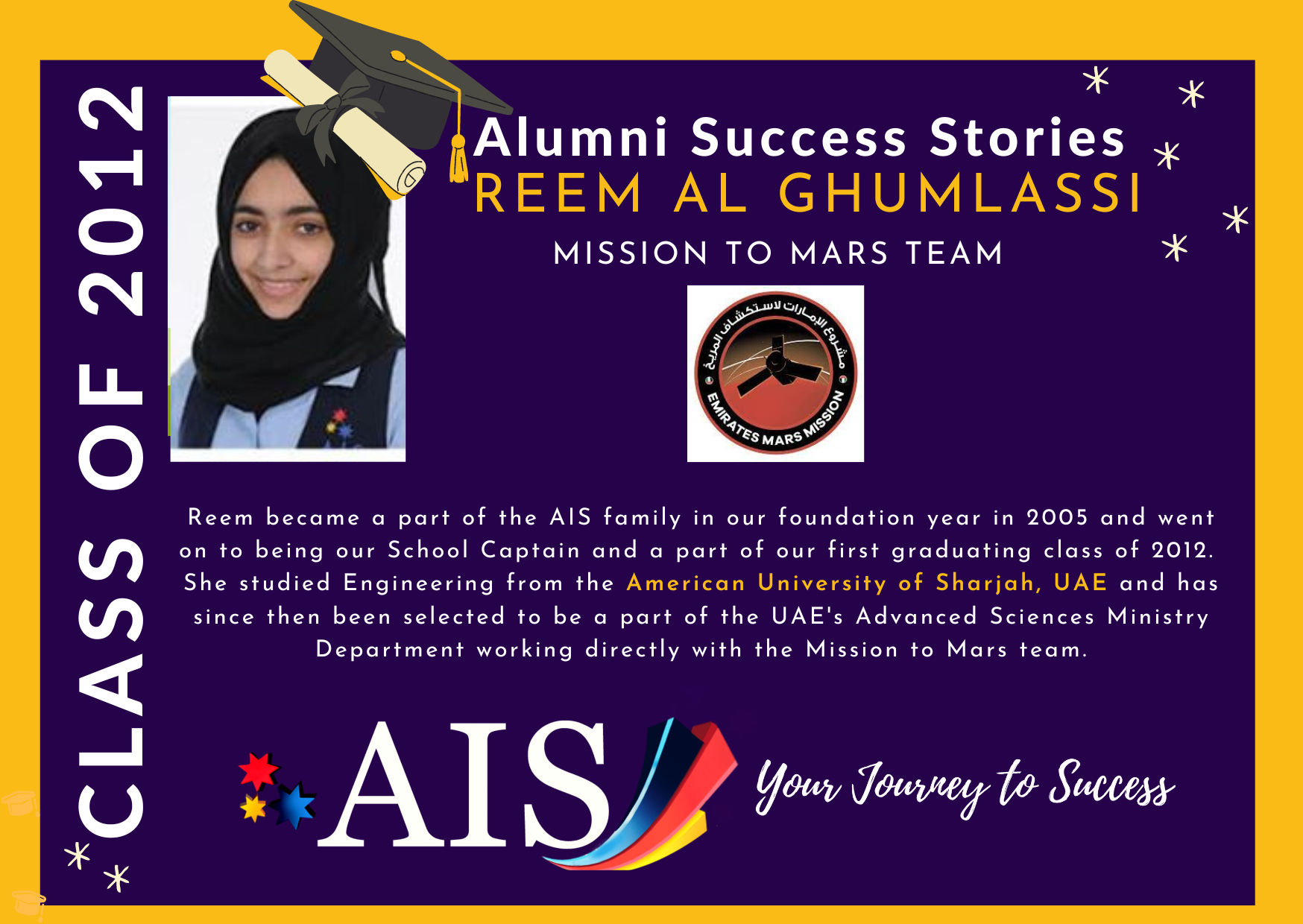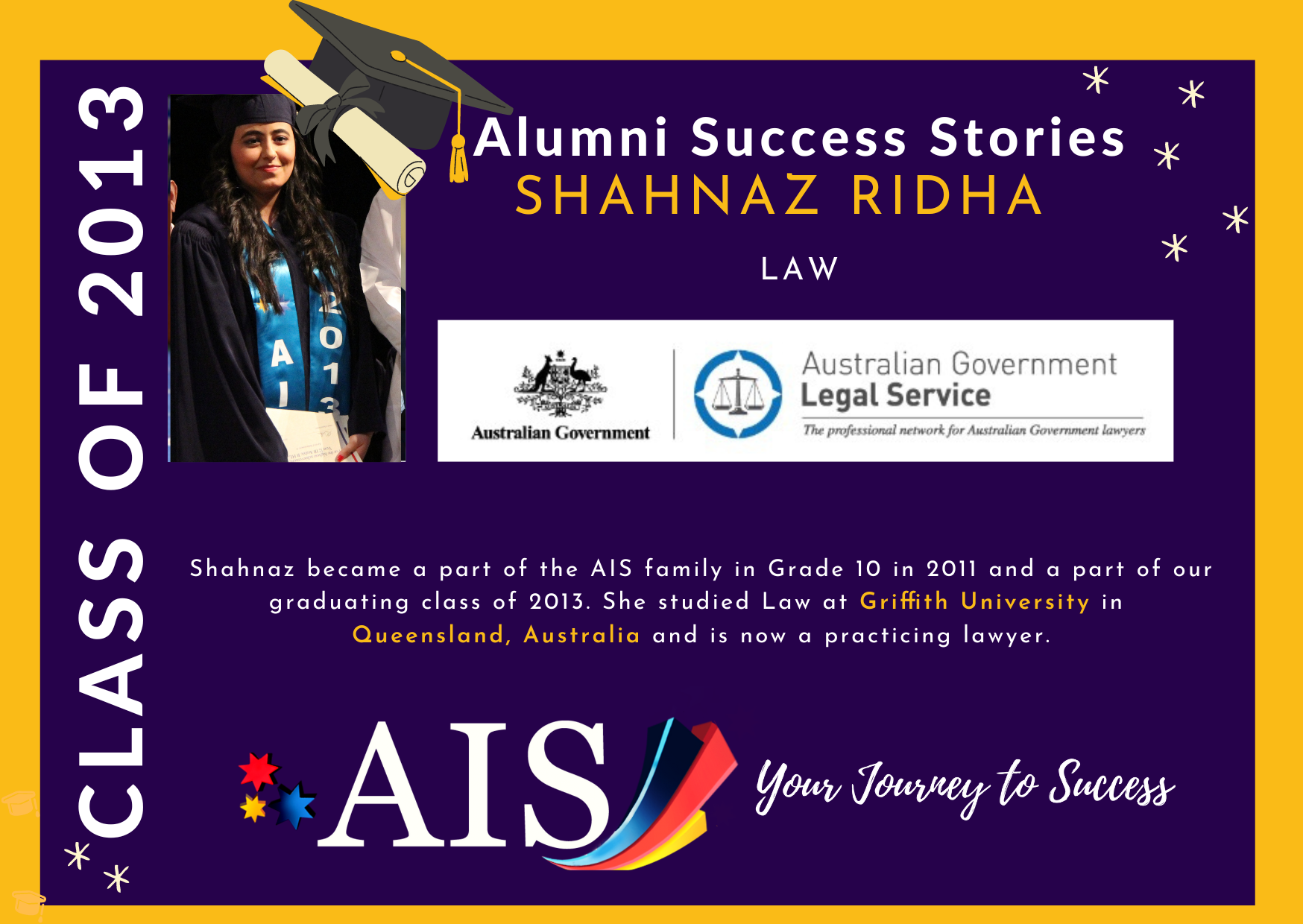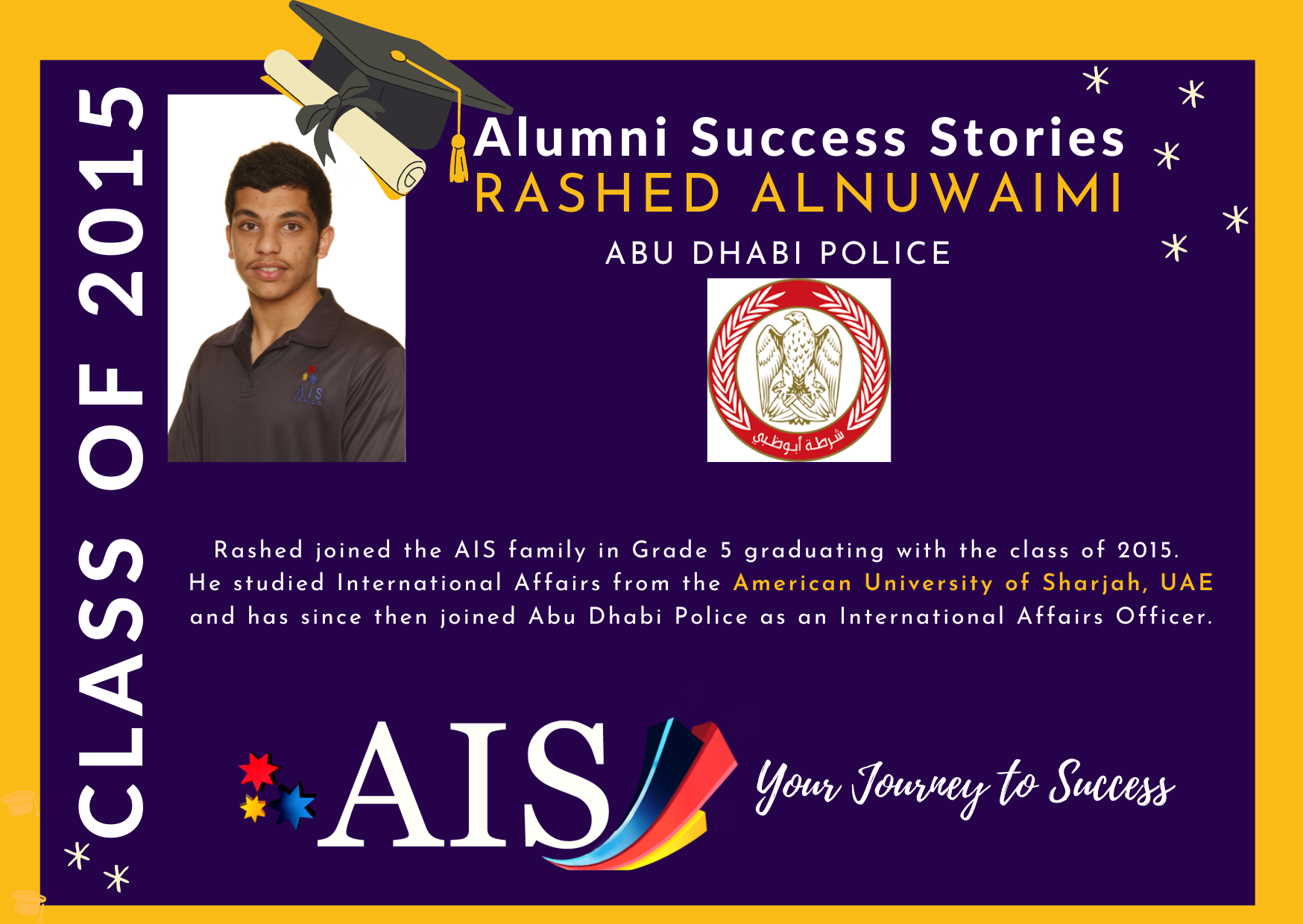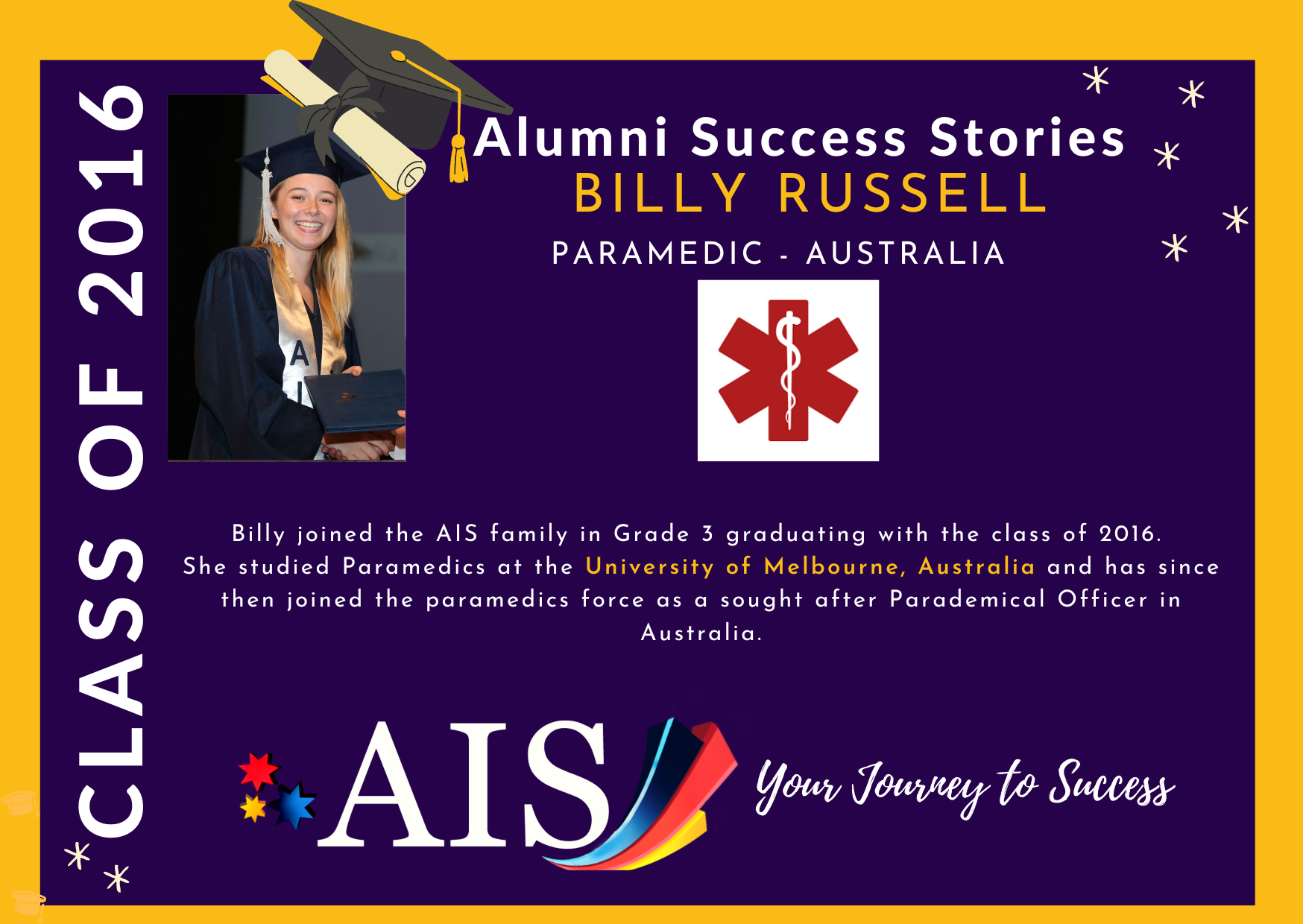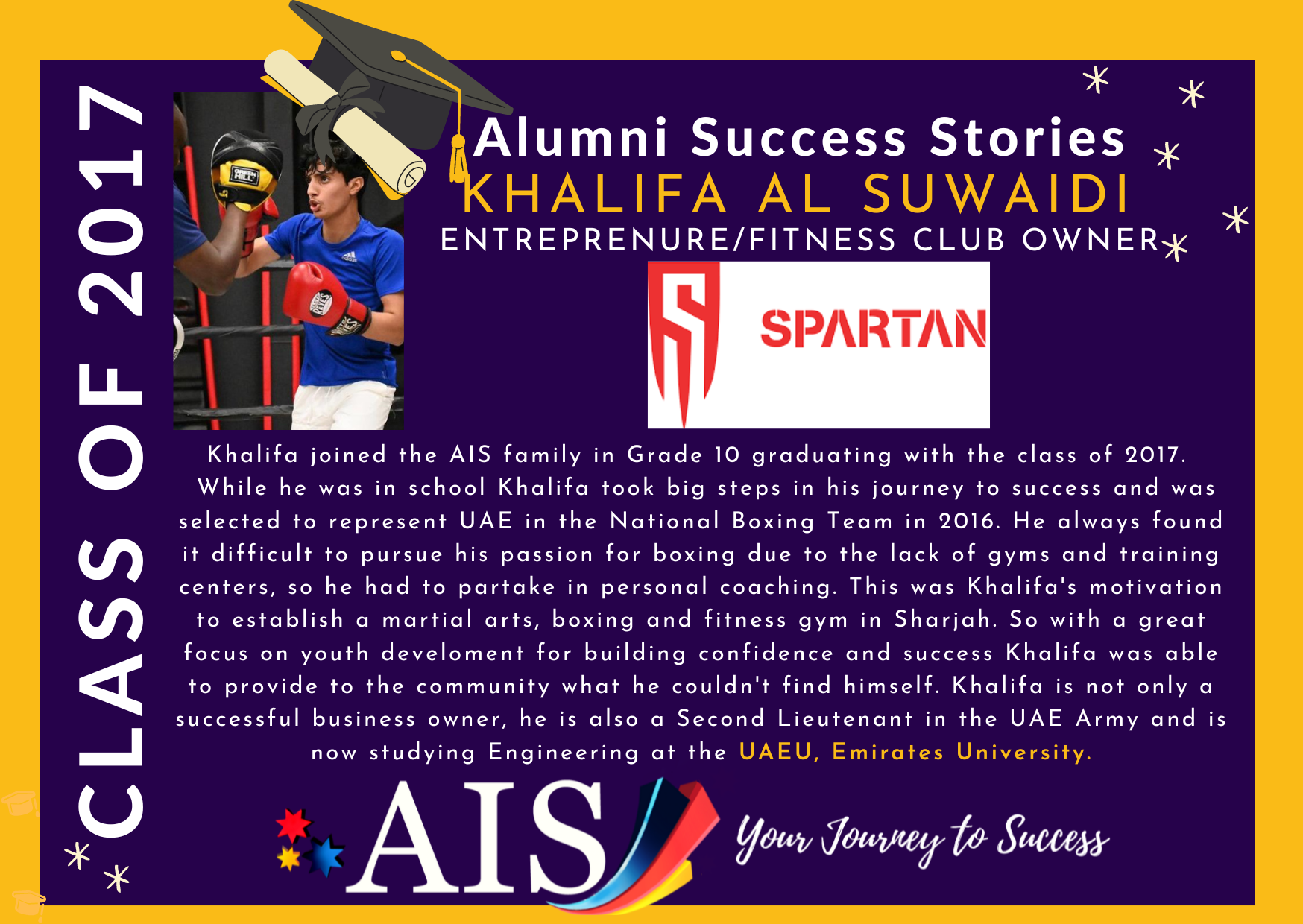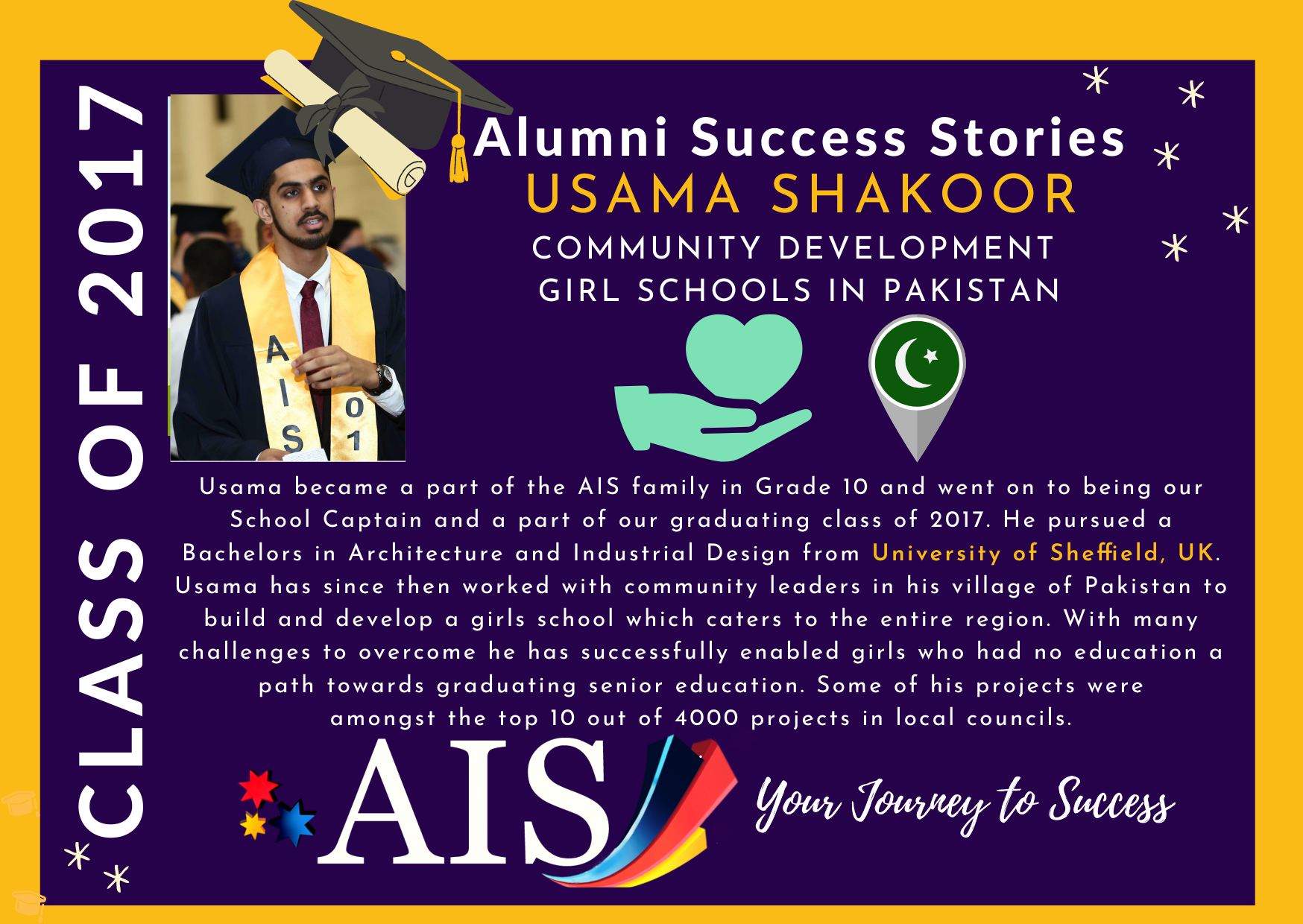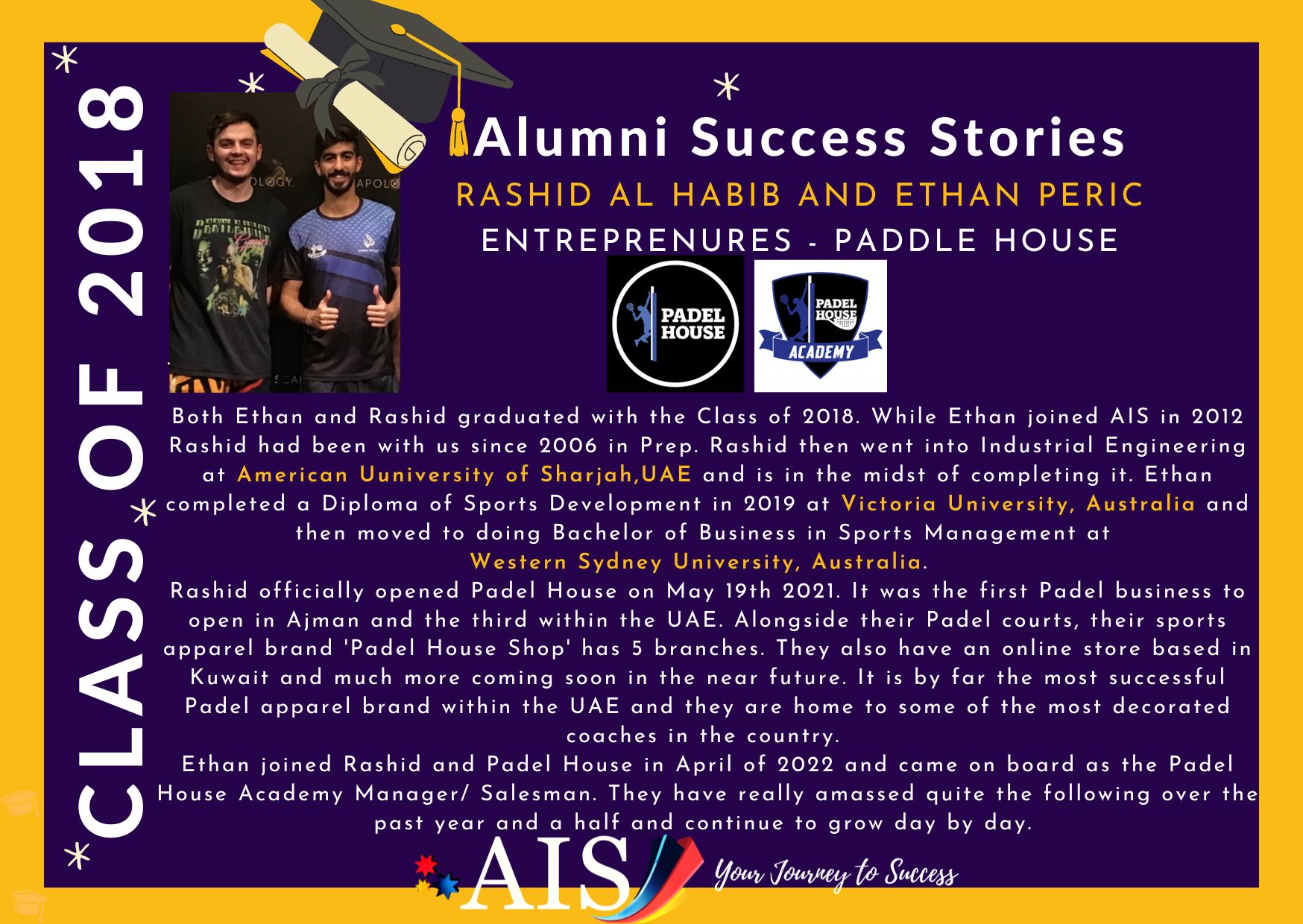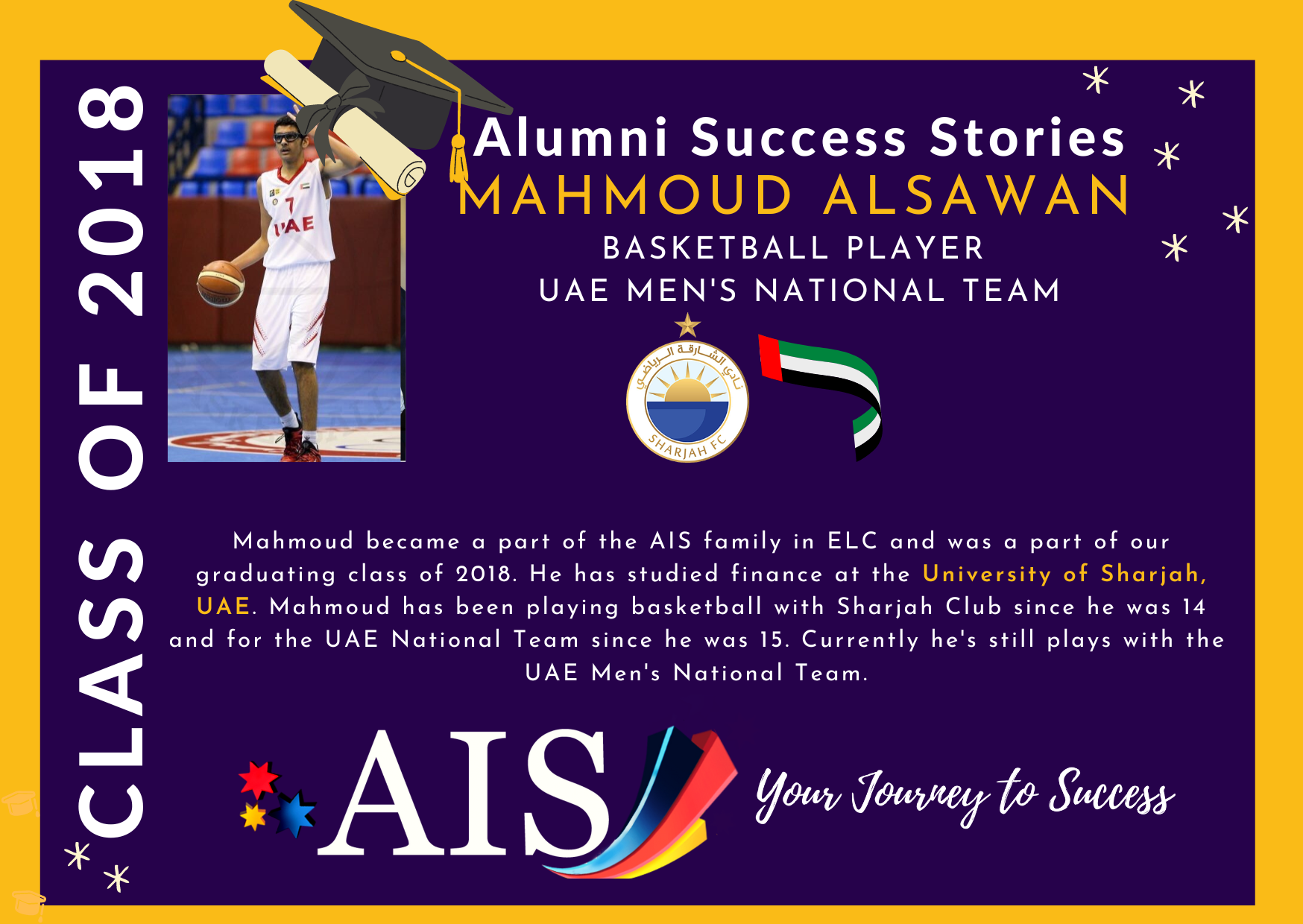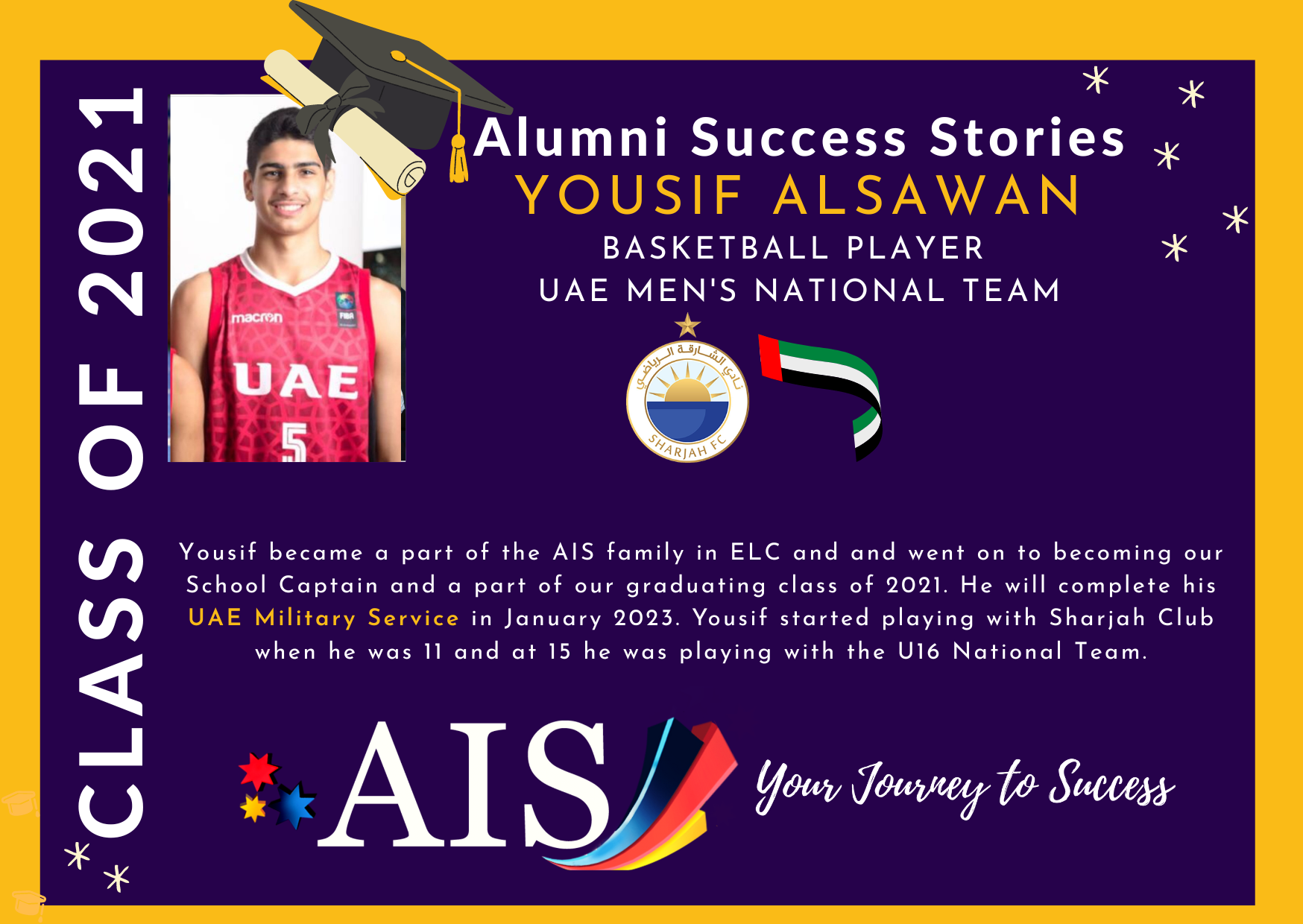 AIS Alumni at the Open Day
AIS Alumni wear their senior jackets with pride at the AIS Open Day. We love it when our alumni visit us on our important events.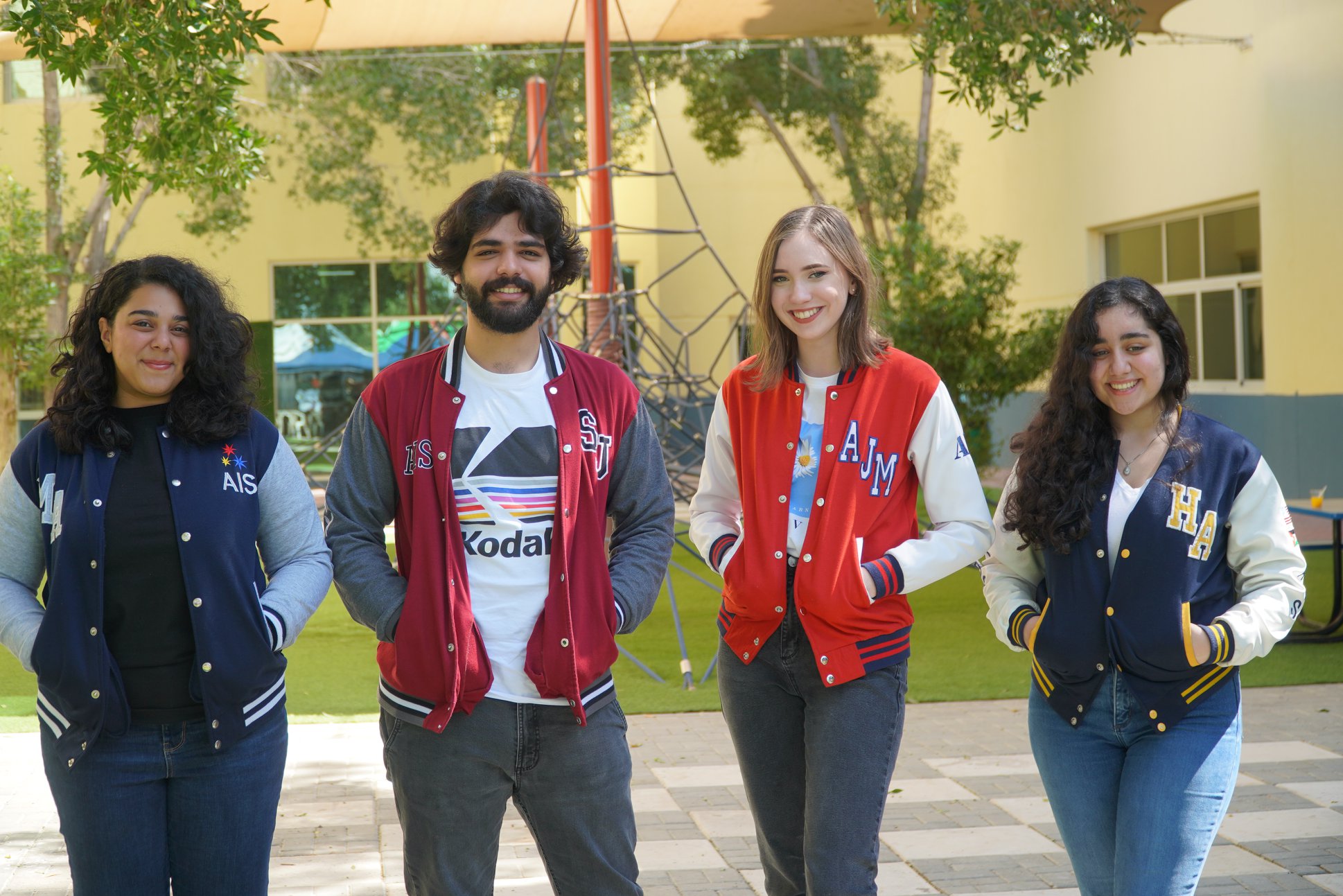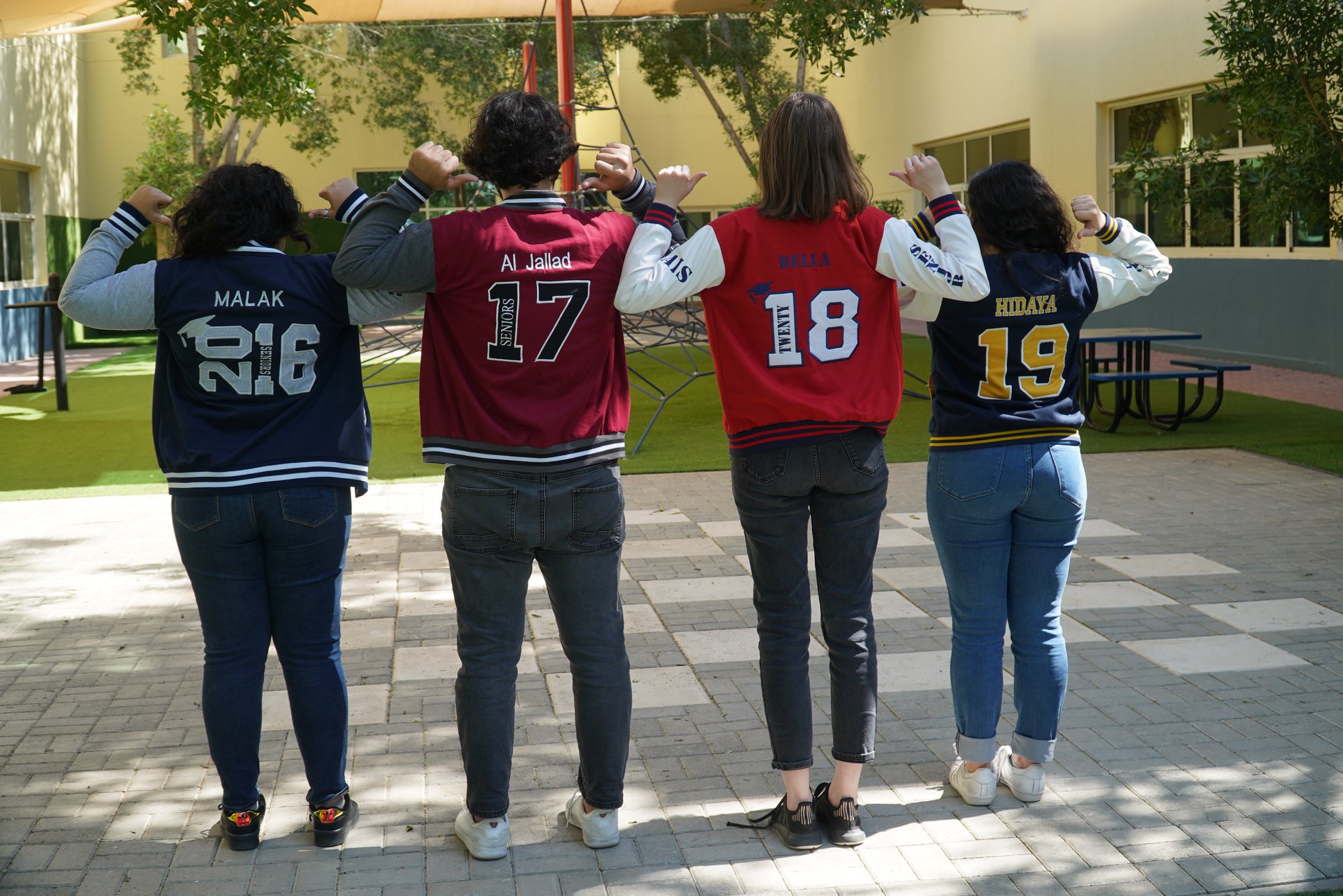 Registration
Once registered with the AIS Alumni, you will enjoy the benefits of:
Reunion events such as dinners.
Contact with your previous teachers and peers.
Invitation to ongoing events at school.
Invitation to mentor a current AIS student.
Becoming a guest speaker at events, clubs and assemblies.
Inclusion in work experience opportunities for current students.
Want to know more information about what the Alumni is?
What is an Alumni Program?
An alumnus is a former student of a particular school or university. An alumni program is, therefore, a body of former students, in this case, graduates of AIS. Individuals within the program tend to organise events, newsletters, magazines or even mentorship programs. Thus, the program allows alumni to preserve their relationships and connections with graduates and teachers whilst remaining involved in our fantastic school. The alumni program is important in providing a legacy for the school, continuity and role models for its current students. It is also a comfort to know that any individual who has an affinity for the AIS can always be a part of it, even after graduating.
What are the benefits of establishing an alumni program?
An alumni program can provide a useful means of developing a school's capabilities through:
Involving the alumni in mentoring initiatives, coaching and other capacities.
Promoting the schools' reputation, strategic vision and goals to potential students who are considering this world-class education.
Using the expertise and knowledge of former students, staff members and interested groups.
Providing an additional mechanism to attract potential teachers for positions or specific project work via the alumni database.
Retaining organisational and corporate knowledge and skills that will assist in delivering future learning opportunities.
Establishing a powerful marketing tool that will sustain and improve the schools' image as an innovative and competitive educational institute.
Enhancing the culture of the school by building and maintaining effective relationships with employees, both past and present.
Creating a source of new ideas and acquiring additional skills and experience from past graduates.